No Bala Vihar/Adult Study Group Classes on Sunday, May 29th, 2016 - Due to Memorial day weekend.
Combined Bala Vihar Session for Summer (June 12th, 2016 to August 28th, 2016) on Sundays (9:30 AM - 11:30 AM).
Upcoming Events
Location: East Aurora High School, 500 Tomcat Ln, Aurora, IL 60505

A Musical presentation on the life of Pujya Gurudev presented by our Bala Vihar and Yuva Kendra
Free Admission. Please
click here
for the details. Dinner will be provided.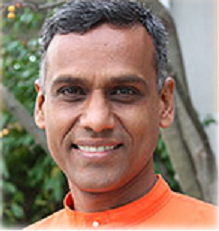 Saturday, June 11th to Tuesday, June 14th, 2016 (7:30 PM - 9:00 PM)
Note: Pujya Swamiji is also giving discourse in Yamunotri center (June 6 - 10, 2016 - 7:30 PM to 9:00 PM) on "SundaraKanda".
Bala Vihar Seniors Graduation on Sunday, June 12th, 2016 (9:30 AM - 11:30 AM)
Please RSVP via this evite by clicking here. (Note you don't need to have an evite account to RSVP for this event.)

Invocation & Guru Stotram, Saraswathi Puja, Address by Acharyas, Taittriya Upanishad - Chanting
Address by Bala Vihar Teacher, Reflections by Graduates, Address by Chief Guest
Address by Parents
Diploma Awards
Initiation to CHYK West
Concluding Prayers, Pledge & Aarati (followed by Maha Prasadam Lunch)
NOTE:Bala Vihar children from Grades 7 to 12 will go to the Shrine at 9:30 am to attend the Graduation Ceremony. The children from Grades PreKG/KG to 6 will go to their respective classes at 9:30 am in the old Asharam. Hosted by Parents of Graduating Class.
Monthly Bhajan on Saturday, June 18th, 2016 at 7:00 pm.
Location: Drs. R.A. & Rashmi Raghuvir's House at 3600 York Rd, Oakbrook, IL 60523. Please RSVP to the host at 630-728-7962.
Announcements
Interest free loan program to payoff Mission's debt & reduce interest cost. Sangam Fund comprises of Zero Interest Loans given by any participant to Chinmaya Mission Chicago for a period of 3 or more years. View more details
Past Events